The Inseparable Relationship between MSPs and Print Vendors

There's no denying it. MSPs and managed print vendors are intertwined in their relationships with mutual clients.
While many MSPs tend to avoid dealing with their clients' print fleets as much as possible, their intervention is often required.
At Print Partner, we understand our role in the MSP community, and we want to help!
We work with hundreds of MSPs nationwide, handling your clients' printing needs so your technicians can focus on higher-priority issues.
In this article, we'll discuss the relationship MSPs have with print vendors and how you can streamline this relationship to make life easier for you and your clients. We'll walk you through the steps you can take to build a relationship with your print vendor and streamline your workflow processes surrounding print.
Why Connect with Your Client's Print Vendor?
For your medium to enterprise-sized clients (we're talking in the range of 100+ users), print is a big deal.
Many of your clients depend on their print and document workflow for their business to function.
This is especially true in industries that rely on print, such as hospitals, schools, and law offices, among others. To learn more about industry-specific needs for print, read: 5 Industries that Use the Most Print
Your MSP's support team is typically the client's L1 resource for any tech-adjacent issue, which includes print.
Your client calls your MSP, requesting that you troubleshoot their print device. Print issues can sometimes hold up a client's workflow and delay projects.
If the issue is not resolved smoothly, it could cause your clients to blame your team and damage your relationship.
But unfortunately, the answer to your client's issue is not always so straightforward. A3 copiers are massive, complex, and expensive devices, often requiring escalations and expertise beyond a quick phone call.
With countless models, makes, sizes, and brands of print devices on the market, having expertise in troubleshooting every possible appliance is not something to be expected from any MSP.
And on top of all the headaches, servicing print devices just isn't worth it! You often won't see a dime from the several hours you could invest in fixing a copier or printer.
However, your client's managed print services vendor will have expertise on their devices (or, at least, they should).
The vendor is typically the partner that originally sold the print devices to your client and can troubleshoot the issues with them much faster than your team is prepared to do. Once you troubleshoot the quick, low-hanging fruit, like restarting the print spooler or clearing the queue on the print server, you can send your clients over to the print vendor to handle any issues beyond your scope.
Without a print vendor on your side, escalated print issues will lead to lengthy rabbit holes that will cause frustration for all parties involved. But with a print vendor, you can smoothly hand off all print-related issues that you can't fix on the initial call.
A preferred print vendor can be a precious resource for MSPs as long as you work with one that is aligned with your service practices. To learn more about how to choose a print vendor to work with, read: MSPs: How to Choose a Print Partner
Spending time defining each of the print vendor relationships throughout your client base should inevitably lead to faster ticket resolution, fewer touches, less back-and-forth, and happier customers regarding print-related tickets.
Now that we've covered the value of the MSP-print vendor relationship, we'll go over how to establish a relationship with your client's vendors.
1. Identify Your Print Vendors
First, identify the print vendors that currently operate in your client space.
The most direct way to identify your client's print vendor is to request a copy of your client's print agreement.
The agreement will give you a wealth of information about your client's print environment, including the vendor's name, a list of devices they are being paid to manage, pricing, limits on paper usage, etc.
If you have trouble retrieving their print agreement, you can instead have your field engineers document print vendors throughout your client environment by having them look for the support tag typically placed on the larger devices, or you can simply ask your client who their print vendor is.
Your team can collect serial and support information and document their findings in IT Glue, Hudu, N-Able's PassPortal, or whatever client documentation platform you use.
Also, informing your customer that you are building a clear and evolved relationship with their print vendor will build your credibility with them.
Be sure to promote this with the customer during the next QBR to show them you are clearly thinking outside the box.
2. Contact the Print Vendors
Once you've identified the vendors operating in your client space, connect with them.
Whether you chat with them at a coffee shop or on a Zoom call, a quick ten-minute meeting can dramatically improve both of your workflows.
During this meeting, review your shared clients with them. For these shared clients, you should be open to discussing the challenges you've encountered while servicing them and how you can work with the print vendor to build a more collaborative outcome for print-related issues.
Here are some good topics you should consider when meeting with your print partner:
Ask them what their preferred method of receiving support requests is, email or phone.


Ask them what information they need to smoothly receive and action a support request that your team is passing over to them.


Ask them what their SLA is and if they can copy you on the support request.


Ask them if they can triage your team back into the request if they suspect networking or server-related issues rather than telling the client to call you back and relay their observations.


Ask who the account manager is for client escalations.


Let them know the best method for contacting your team for print-related issues so they can triage you when needed instead of making the customer do it.
The goal of this meeting should be to facilitate an open dialogue between you and the vendor so that the next time your client has issues with their print devices, you and your partner know exactly what each other's optimal support process is.
This open dialogue can save you and your clients countless hours of pain, and it will impress the print vendor that you take client satisfaction more seriously than most of your counterparts.
3. Transform Your Workflow
Prior to establishing a relationship between the print vendor and MSP, the workflow of a print device service request is often muddy, plagued with many touch points, customer aggravation, miscommunication and unclear expectations.
It can look something like this: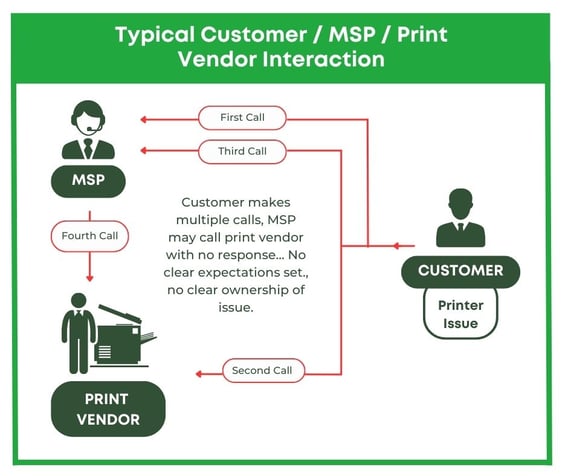 After hearing from countless MSPs, this is, unfortunately, how many print requests go.
The client calls the MSP, then the print vendor, then the MSP again, and it becomes a long, tedious game of telephone.
Eventually, the print vendor and MSP may contact each other, but this is usually after everyone has already wasted several hours accomplishing nothing.
This connection ultimately yields the "A-Ha!" moment, where both parties can determine the root issue.
Unfortunately, this comes after all three parties are frustrated with how much effort and time was required to troubleshoot the issue, but it's the customer who gets the crown for having the most frustration.
Now, consider an alternative service structure: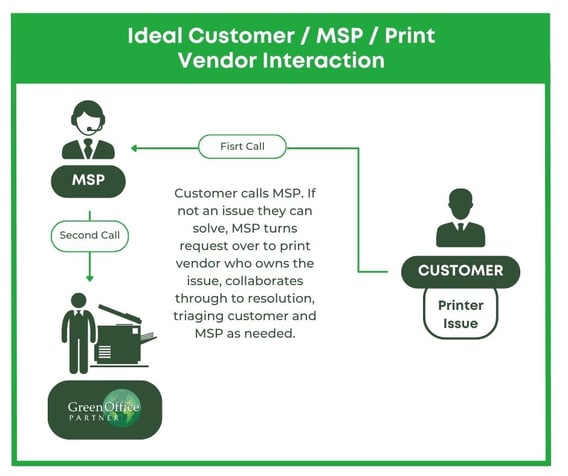 In an ideal print workflow setup, troubleshooting devices goes something like this:
The customer calls your MSP with an issue.





Your MSP technicians attempt to resolve the issue for five to fifteen minutes, doing the "usual things".





If the issue is beyond your scope, you can then turn the issue over to the print vendor, and they will take ownership of the issue, triaging you as required to resolve it.
It's not complicated - save your clients the headache of calling back and forth by establishing a strategy to make work easier for you, your print vendor partner, and your client!
Print Partner and Building MSP Relationships
Connecting with your client's print vendor can have rippling effects across your entire business.
Once you have clear and agreed-upon process in place with regard to servicing print in a collaborative fashion across your client base, you can free up hours and resources, allowing your team to focus on higher-priority projects.
At Print Partner, we understand the importance of a strong print relationship, which is why we built our entire channel around being supportive partners to MSPs!
We aim to build authentic, mutually beneficial partnerships between MSPs and our parent company, Green Office Partner, a boutique provider of managed print services.
When your MSP refers clients to us, we provide them with a collaborative, streamlined print experience that caters to their needs and yours. Not to mention, we are not an MSP (unlike many others in the managed print industry!) so you are protected when we are in place with your customers.
Plus, we pay you! For each referral you send our way, we'll pay you at least $250, plus $1,000 per copier sold and 5% on the clients' lifetime print allotment, as well as a commission for any solutions opportunities we pursue with products like PaperCut, PrinterLogic, XM Fax, and document management solutions like Umango or Square 9.
So if you want to improve your MSP's service structure while creating an additional revenue stream, consider partnering with us, a Print Partner you can trust.